Anti-prison week : program / practical informations
Note : the up-to-date version of the program is available on the website of the Anarchist Bure Cross.
The anti-prison week is in less than a month! It will happen from 2 to 8 march 2020 in the old train station of Luméville, close to Bure, place of a struggle against a project of a center for burrying nuclear waste.
The idea is to take time to meet, between people and groups from different countries, have formal and informal times of discussions, workshops, movie screenings, readings. You can come to the week with your own proposals, with or without telling us in advance. Zine distros are also very welcome.
We received criticisms regarding the lack of topics related to racism in prison and state racism in the program of the week, considering the key role that racism play in penitentiary systems. We would like to make more space for these topics, so if you think you have something to contribute on these topics, please contact us.
Program
This section will be regularly updated and completed between now and the beginning of the week.
Monday
An update on the struggle in Bure
The Cigéo project, the events of the last few years.
Screening: Sur les toits (« On the roofs », 2014, 1h35)
In the early 1970s, revolts followed one another in french prisons. This film recounts the revolts of 1971-1972 in the prisons of Toul and Nancy (not far from Bure), interviewing two prisoners who took part in the riots, as well as a screw. These prisoner riots will raise the problems of the conditions of detention, the function of the prison and the french prison system.
In french, with english and italian subtitles.

Tuesday: repression and anti-repression
Discussion: investigations for criminal associations in France and Italy
Description to come.
About Loïc and the repression following the G20 in Hamburg in 2017
Loïc was released – under conditions – in last december after 1 year and 4 months in prison in Hamburg. We will talk about the conditions of his detention and the repressive methods used by german cops – along with other european police forces – to identify, track down and arrest people suspected of taking part in the riots against the G20 in july 2017.
On the case that specifically concerns our friend, we will give an update on his lengthy trial, which has been under way for a year and a half now and which should be concluded in the coming months.
With people from Loïc's support group.
Audio listening: interview with Claudio Lavazza (2011, 17mn)
Claudio Lavazza is an anarchist who participated in numerous armed attacks and expropriations, before being arrested in 1996 in Spain after 16 years on the run. In this interview, he talks about his life in prison and the possibilities for struggle inside and outside prisons.
In italian, with french and english subtitles.
Screening: Sessiz Ölüm (« Silent Death », 2001, 1h25)
People who have spent many years in isolation in different prisons in Europe talk about results of the isolation system and its influence on human life. Between the interviews are scenes filmed in a women's prison in the United States, as well as fictional scenes.
Disclaimer: this film deals with difficult subjects, the psychological impacts of extreme solitude and suicides in prison.
In several languages, with spanish, french, english and italian subtitles.
Wednesday: (No) Borders
Discussion on migrant detention centres
Description to come.
Collective reading of the book « Milot l'incorrigible » – off topic

Description to come.
Discussion: minors facing justice nowadays, and the new construction projects of CEF (Centre Éducatif Fermé – Closed Educational Centre) in France – off topic

Description to come.
Thursday: gender issues, LGBTQ+, women's prisons
Poland is no longer funny – repression and the end of so-called democracy by the Warsaw Anarchist Black Cross – off topic

Was it ever funny? Actually, yes – between 2005 and 2007, when the Law and Justice party first entered a coalition with two other right-wing parties, their changes in the state were often limited to stupid school uniforms. Many people could not believe their victory and did not take this government seriously. However, Law and Justice returned to power in 2015 and took over the entire pool. Since then, the party has introduced more and more complicated changes in the law, which make it possible to say that Poland is no longer a 'democratic' country. During the presentation we will talk about these changes and about the repressions and scale of surveillance against activists and anarchists.
Audio listening: interview with S. (1h05)
In this interview, S. recounts his experience in prison, his emotional ties, whether they are friendly, sexual or romantic…
Warning: this audio listening talks about difficult topics, sexuality and trauma such as rape.
In french, with live translation in english and italian.
Screening: Last Rescue In Siam (2012, 10mn)
A parodic comedy about « raid and rescue » operations against prostitution in Thailand (Siam is the old name of Thailand). Written, directed, and acted by thai sex workers.
Silent film, with thaï, french and english subtitles.
Screening: Criminal Queers (2017, 1h04)
Fiction about a radical trans/queer struggle against the prison industrial complex and towards a world without walls.
In english, with english, french, italian and german subtitles.
Friday: about being « on the run »
Two-part presentation on clandestinity
Description to come.
Saturday: anarchist views on justice, law, crime / how to get out of a punitive system
Discussion on alternatives to the penal system, by the Anarchist Black Cross – Paris/IDF
The penal system embodies a formal and punitive form of conflict management put in place by the State. The abolition of the penal system implies reappropriating conflict resolution. A variety of non-state practices can be identified: punitive, educational, therapeutic, conciliatory, compensatory, etc. When a painful event is attributed to a person, the question is what type of conflict resolution is appropriate to deal with the situation. An anarchist approach implies the rejection of a punitive approach in favour of restorative types. We propose an open discussion on forms of conflict resolution, without tribune and without experts, in order to try together to grasp an anarchist approach to conflict resolution. We could address practical cases.
Sunday
Writing workshop for prisoners, by the Anarchist Black Cross – Paris/IDF
The diversity of writing and correspondence practices is valued: letters, postcards, individual but also collective writing, drawing, etc. We make available addresses of prisoners, material, documentation to help us, inspire us, and make us aware together of the stakes, constraints and possibilities.
Digital self-defense workshop, by the Anarchist Black Cross – Paris/IDF
The goal of the workshop is to empower individuals in defining threat models and implementing reliable security policies. While we present some free software, our approach is « practice-centered » (questioning and improving our digital practices based on a better understanding of how computers and the Internet work). Our approach also encourages limiting the use of digital tools.
And also during the week…
Documentation and discussion: state ableism and its relationship with justice and prison
Description to come.
Audio listening : revolt in a prison in Avignon, France, in 1974
Testimony of a person who took part in a revolt in the prison of Avignon in 1974.
In french.
Reading of a letter from Alfredo Cospito
Alfredo Cospito has been imprisoned in Italy since 2012, following an attack on Roberto Adinolfi, CEO of Ansaldo Nucleare (the company in charge of the italian nuclear industry). He was also sentenced to 20 years in prison last april as part of the repressive operation « Scripta Manent ». We will read a letter sent by Alfredo as a contribution to the anti-prison week.
Reading of a letter from Andreas Krebs
Andreas Krebs has been imprisoned in Italy since 2018. He was sentenced to 24 years in prison for the murder of his former boss, and for his proximity to the RAF (Red Army Faction). We will read a letter from Andreas.
Space for writing to prisoners, throughout the week, by the Anarchist Black Cross – Paris/IDF
Writing is an accessible way to break prison isolation, to show that, outside, we are in solidarity. This space will be dedicated to quick and collective writing on posters and postcards. We will make available addresses of people undergoing particularly hard conditions of detention (isolation, etc.), writing materials, and documentation (including our Guide to writing to prisoners).
Practical informations
Coming to the place of the event
The old train station of Luméville is located in Meuse, France, close to the village of Luméville-en-Ornois, on the left of the road leading to the village of Mandres-en-Barrois. You can enter it by car. We will put up signs so you can't miss the entry ways.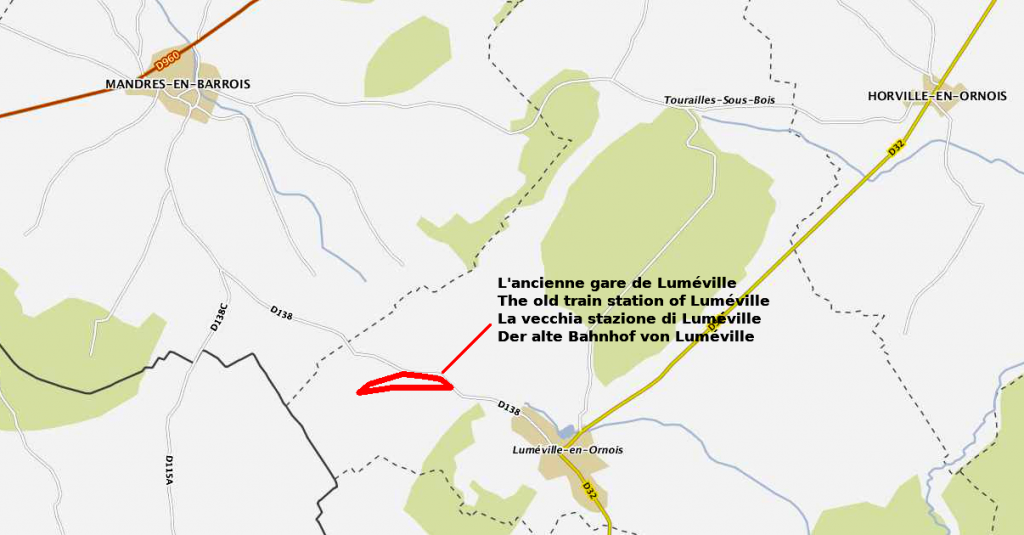 Food
There will be vegan food from sunday 1st in the evening to monday 9th in the morning. We will provide the food and cooking equipment but cooking will be participatory and rely on self-organization. You will be able to put money in a free price box to help us cover the expenses of the week.
Sleeping
There will be sleeping places in a building on the place of the event, but not enough for everyone. There will also be sleeping places in other collective houses in villages around (at maximum 8km). There is a lot of space on the place of the event if you can come with a tent, a camper or a truck (bring blankets if you can!).
If you need sleeping places in the building on the place of the event, please tell us in advance how many places you need so we can organize.
Translations
Translations will be provided as much as possible in french, english, german and italian. If you plan to come to the week and are able and motivated to do translations during discussions, you can tell us in advance when you would come and from which to which language you can translate.
Legal information
We published an article about legal information and police controls in the context of the week. You can read it here.
---
See you in march!
The Anarchist Bure Cross
https://anarchistburecross.noblogs.org
23/02/2020